Now Taking Applications for 2017
Sign Up Using Our Online Application
It is easy, safe and secure...


| | |
| --- | --- |
| For returning campers, you make login to your account and click on the Camper Application link in the forms section of your home screen. | |
Payment Information:
Mail or dropoff checks during open house.
Mailing Address:
1899 Tucker Road
Macon GA 31220

---


New Playground
Click here to checkout our new playground. It is finally complete.
Weekly Themes - FROG - Fully Rely on God

"Finally, be strong in the Lord and in his mighty power." -
Ephesians
6:10
Week 1 - May 30th-June 3rd (No camp Monday, May 29th—Memorial Day)
•Welcome Week
Week 2 - June 5th-June 9th
•Group Sing
Week 3 - June 12th-June 16th
•Renaissance Fair
Week 4 - June 19th-June 23th
•Olympics
Week 5 - June 26th-June 30th
•Talent Show
Week 6 - July 3rd-July 7th (No camp Tuesday, July 4th—Independence Day)
•Christmas on the 4th of July
Week 7 - July 10th-July 14th
•Color Wars
Week 8 - July 17th-July 21st
•Traditions Week
Week 9 - July 24th-July 28th
•Normal Week
Week 10 - July 31st-August 4th
•Low Enrollment Week (if needed)
---

2017 Dates: May 30th - August 4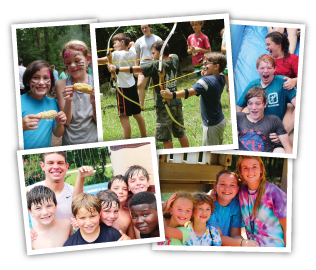 Camp is open... choose from some or all of the 10 one-week sessions. Our Day Camp Program is from 9am - 4pm, but if needed campers may join us from 7:30 am - 6pm.
Trinity Woods Summer Day Camp, located in Macon Georgia, is a Christian setting where kids, ages five to thirteen, can have summer fun where they enjoy it most ~ OUTSIDE! Trinity Woods Summer Day Camp is a Christian Camp and is a Christ Centered outdoor experience. Campers get to enjoy nature around our lovely 17 acre Trinity Woods and Trinity Creek.
---

2017 Camp Theme - FROG - Fully Rely on God
2016 Camp Theme - Unleash the Power!
2015 Camp Theme - Splashes of Joy
2014 Camp Theme - Every Sheep Needs the Shepherd
2013 Camp Theme - Lose Control
2012 Camp Theme - Who am I?
2011 Camp Theme - Go Tell it on the Mountain
2010 Camp Theme - Armor All the Way (about The Armor of God)
2009 Camp Theme - Holy Heroes
2008 Camp Theme - Son Ripened in God's Garden
2007 Camp Theme - Walking in the Light
2006 Camp Theme - Trees of the Field